Instant Track and Trace
A Cut Above
Many companies are overwhelmed with digital and analog information. Most cargo is still traced via data entry, leaving customer's lacking instant access to vital, time-sensitive information.
KT Group is different. We use web tools, mobile devices, and real-time technology to help our customers stay informed on their cargo at all times using satellite locations, inventory levels, receiving and delivery activity, as well as online document management.
Mobile Technology: Warehousing and Transportation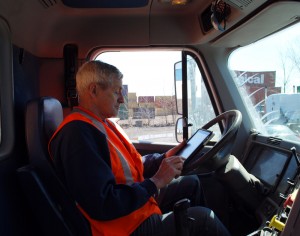 KT Group uses handheld mobile technology to communicate real-time shipment tracking reports and recipient signatures to its global customer base.
Last minute changes are no problem for our drivers as they receive updates directly to their hand held devices en route. Signature capture technology on our mobile devices enables our employees on the road and in our warehouse to automatically update our system. Through live synchronous data transfers between our system and yours, you'll always rest assured knowing where your cargo is.
Have you registered for our track and trace service? Contact us today for additional information!